It occurred to me to write this article when I was preparing materials for bike fitting on the web and I found many photos of bikes on which I and our other riders in the Czech Republic rode historically.
The world of modern technology is constantly moving forward, inventing new and better things to give us better performance, less effort and more fun. Today's bikes resemble shuttles and the prices at which they are sold are at the level of the basic equipment of the Škoda Octavia. But let's see what has been used for in the past.
I have been doing triathlons since 1994 and I remember well that the bikes that were ridden at the time were completely unsuitable for the time trial. But we were glad we had some at all. At that time, the fitting was such that the goal was to mount the KUBOJ bar or DAJ (there were no others) on the rams and move the saddle as far forward as possible. Thanks to the classic seatposts with a negative offset, however, it was not possible, and therefore the seatposts rotated, but in order to be usable, they had to "adjust" the file and file it. I once raced like this at a local duathlon in Prague, ran to the bike, jumped on it and you can probably guess how it turned out. The seatpost burst and I had to resign from the race because I didn't want to ride it all while standing. That was probably the last time I adjusted my bike like this ...
Unfortunately, I don't have photos of my very first laps, so here's a short description ...
ROAD BIKES
1. Peugeot in Ultegra (I think 8 speed). It was a classic road to which I just added a bar and I rode it for two seasons. Around 1990, it was still a problem to get better cycling equipment, so it was a coincidence that my parents got this bike somewhere, which was very good and light at the time.
One race, and probably one of the top casts that I found, was Mountain Man in Seefeld in 1993. It was a race of the Pro tour series, which was before the creation of the World Cup in short triathlon. Yes, it was an Olympic triathlon, but thanks to Seefeld, it was a 20 km downhill run and 20 km uphill, and then on the run several times the piste run. At the start there were stars like Mark Allen, Mike Pigg, Wendy Inghram, Greg Welch and I, who rode the race in the rain with a disc wheel :-) Well, I washed young, inexperienced and how it turned out ... although the quality is hereditary, but check out the 15:30 minute recording .... that was my entre in professional triathlon :-) (but I wasn't the only one who fell)
2. ŠÍRER - it was a bike that we got borrowed from the TT Centrum section. It was supposed to be a triathlon frame, but at that time I didn't know much about it and I'm not able to describe whether the construction of the frame was any different from the road bike or not. However, the bike was glued with Laurin & Klement stickers, because it was in the process of sponsorship with this brand.
3. FORT - I had a longer time with bikes from this Czech brand. I started on classic road bikes and then they were left with a triathlon special on 26 bikes in a design from B2. This bike was light and I rode it one season. I wanted 26 laps because they were ridden by the world's leading triathletes such as Thomas Hellrigel, Jurgen Zack and Paula Newby-Fraser. She once rode Hawaii even on 24-inch wheels, and the converter was almost as big as the wheels.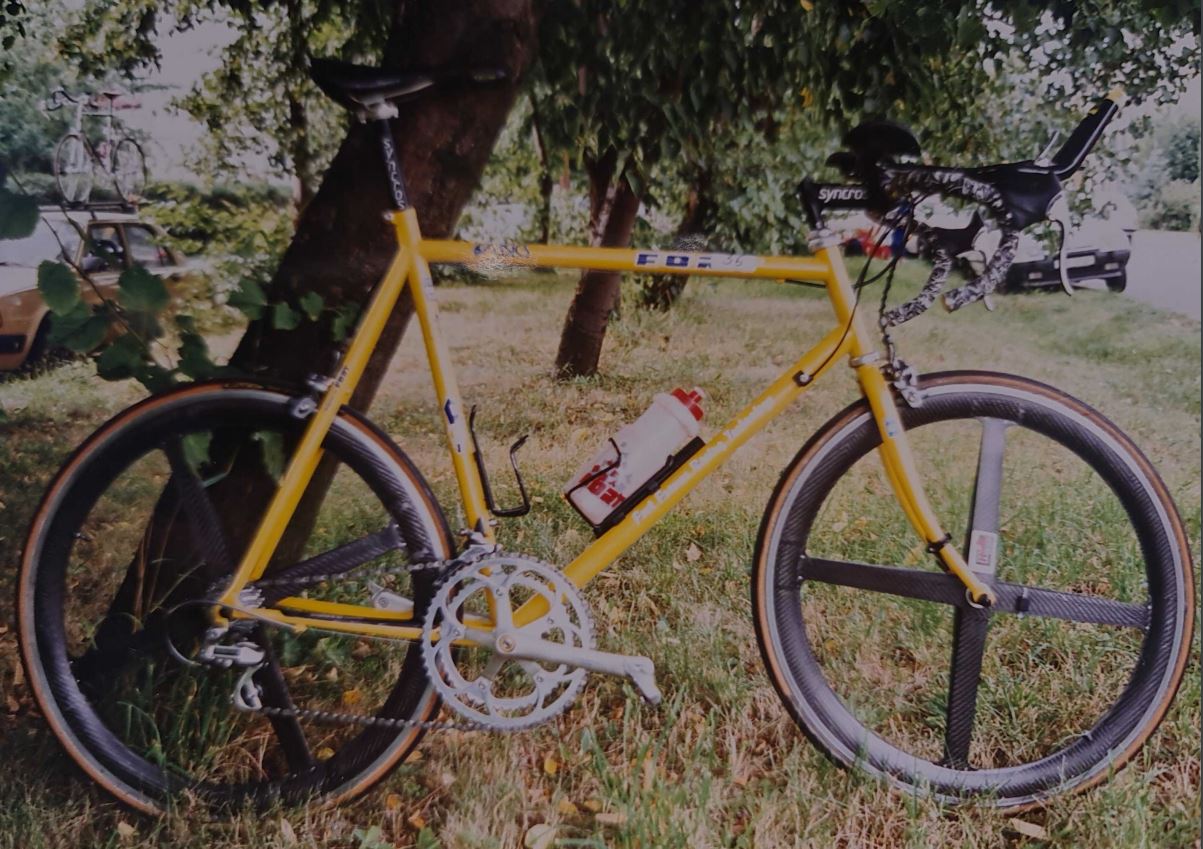 Triathlon special Fort 26 inches with Spinergy wheels. Syncros stem and seatpost. (my stem cracked while driving :-()
4. DURATEC - triathlon special on 26 wheels. Well, I only had it for a few months because it wasn't a very good bike. It looked like it was welded from water pipes and it was about as heavy :-( Unfortunately, I did not find the photo.
5. AUTHOR - since I started riding in the Author team, it was clear what I would ride on. The first bike I rode was a classic steel road frame. I just improved the bike with carbon ZIPPs and a shift on the crossbar. There was nothing else to improve there. The photo is from my trial IM in Klagenfurt, where I rode 8:43 and the bike rode somewhere around 4:50. So it went well on this too :-)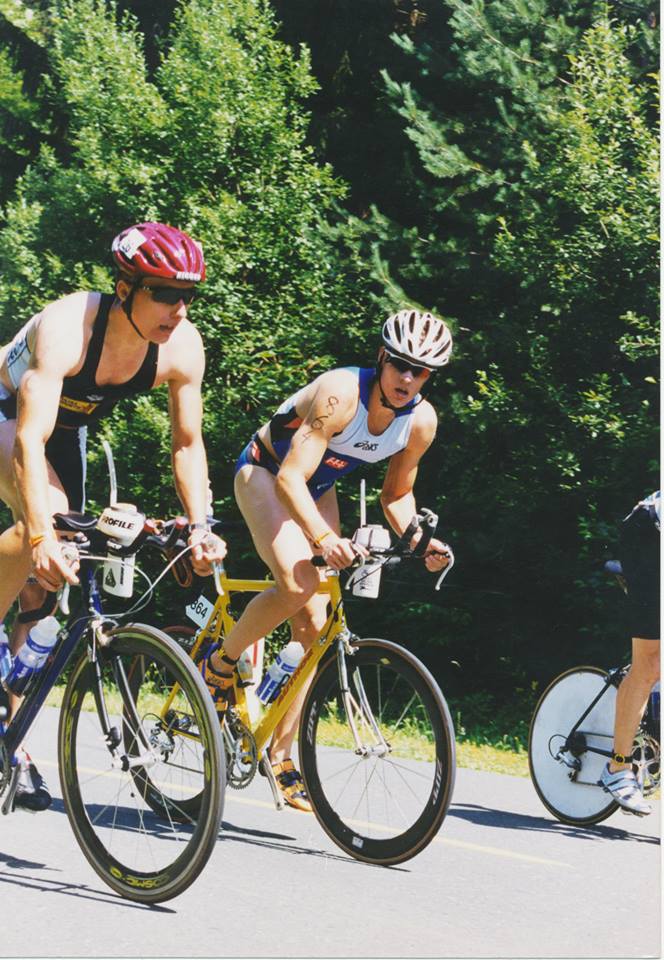 As a training round, of course, Author was perfectly sufficient. Here you can see the bike from the Cran Canaria training camp, which I completed with Power Cranks cranks, which were specific in that they forced to keep pedaling in the wheel and with both feet, otherwise the cranks "decided" and had to be adjusted to the 6h position again. . This was a very rough ride. I still have them with Martin Wheiseitl, so I will sometimes install them on the bike again to enjoy a little ...
The next round from the Author was already a special triathlon. (again, I don't know what and if they were inspired by other triathlon brands in Author) but the bike was still very long and the angle of the seat tube was tipping around 74 °. I rode many races on this bike, but it wasn't a bike I would remember that it was one of the best bikes I've ever had.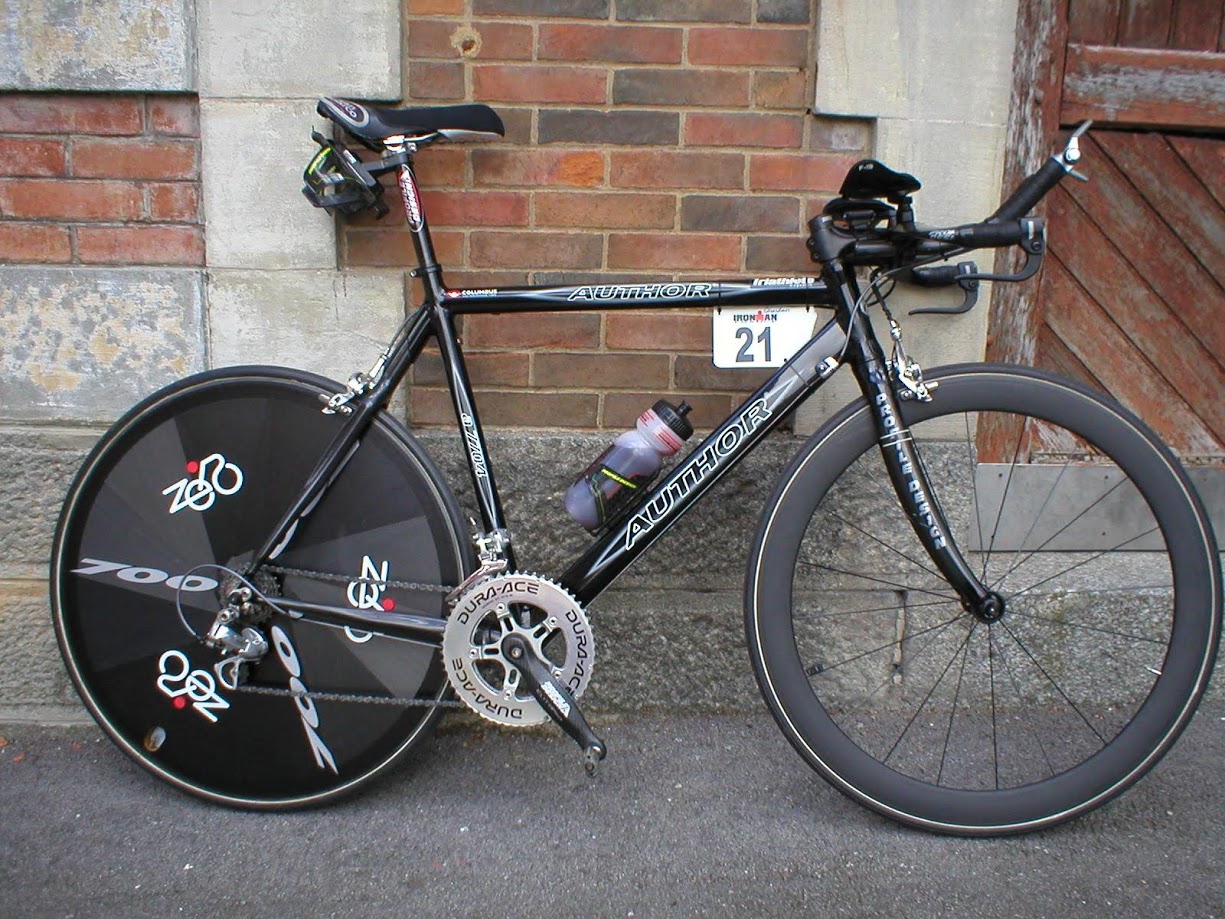 Our other competitors were not much better either. Thanks to his two Ironman titles, Petr Vabroušek already had a good reputation abroad and was able to arrange a bike in the USA. I remember it was a carbon CALFEE he rode on for years.
Here Petr is already riding the Author bike, which is still riding.
Tomáš Petr was faithful to the classic road bike throughout his triathlon career. Here is a photo from Kona in 2002. Compared to today's tpo racers, who have a position in tune in the wind tunnel, Tomáš looks like a road driver who put a crossbar on his bike and rides a time trial.
I received the first truly triathlon special from Cervel, which was just beginning at the time, and its founders, Phill and Gerard, drove a house to the races in America and presented their bikes. For their first Hawaii in 1999, they lent me a prototype for the race. My bike was sent to San Diego, where I set it up so I could ride it and ride it about 4 times and then in the race. Well, today I wouldn't do such nonsense anymore, but then it was enough for me and I won that year in Hawaii.
borrowed prototype from Cervel. 26 inch wheels ... but it went ...
TRIATHLON BIKES
Thanks to the victory in Hawaii and regular training in San Diego, I had a much easier position in negotiating with cycling companies. In 2000, I went to Ironman California on the tracks at Camp Pendelton, where I knew it very well and it was almost my home race. Unfortunately, my bike didn't come to the race and I borrowed what they had available from the NYTRO store for the race. It was no stone, but an aluminum Cannondale frame with Spinergy wire wheels.
But even with this lap I was able to ride the fastest lap and finish in 5th place overall. Unfortunately, I kept the 2nd place in the whole race until the last mile of the run, but thanks to cramps on the run (I didn't have salt tablets) I finished up to 5. However, this result and the fastest lap of all was an argument for Cervel owners to give me a triathlon special P3 on 26 wheels. It was one of the best and also the fastest bikes I've ever had.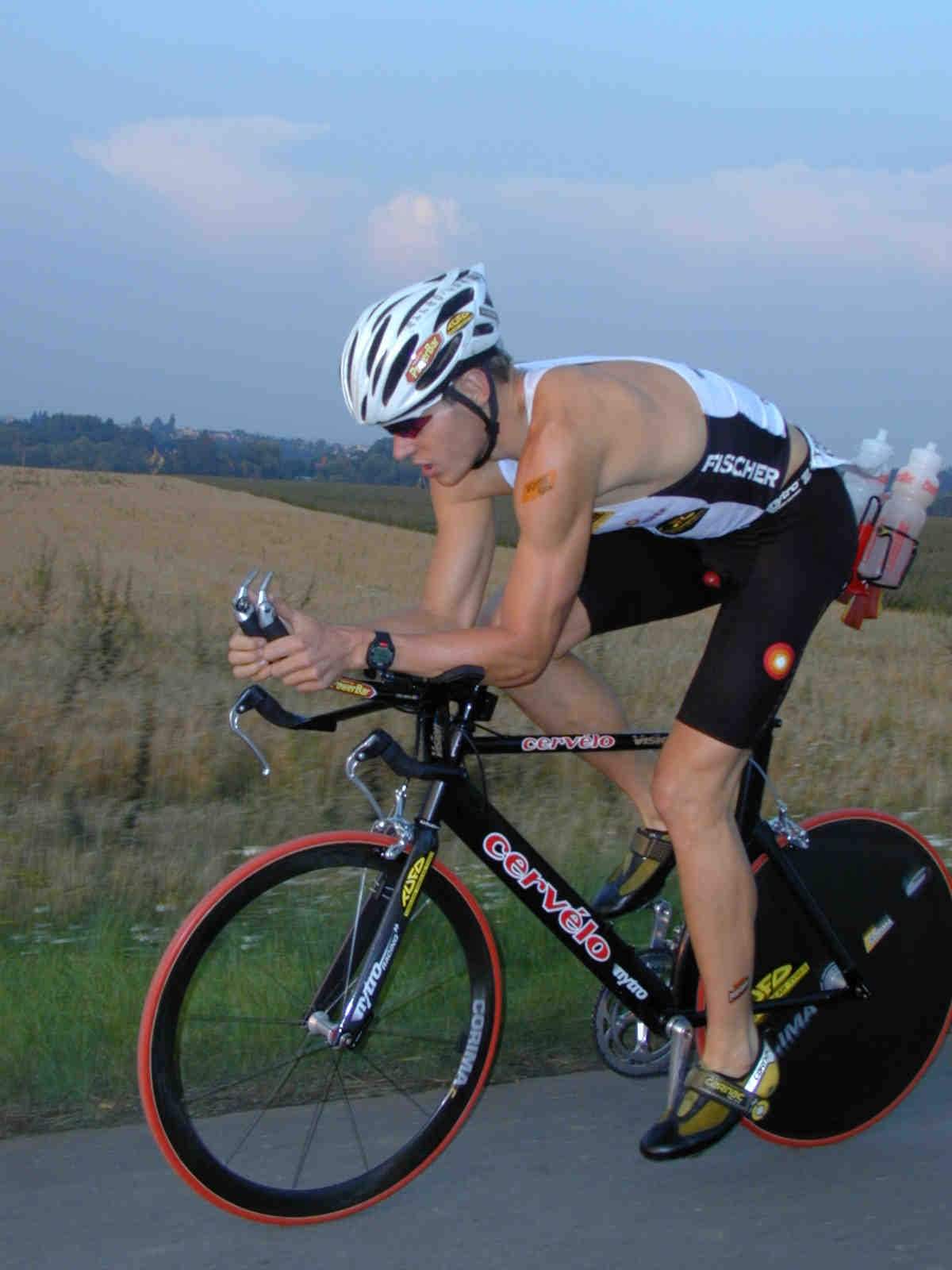 Thanks to this lap I rode very well and regularly ran to the rest of the starting field for a few minutes.
In addition to the bike, I was the first to start using the integrated Vision Tech handlebars, which were later bought by the FSA. These were aero, but it was not possible to set them much as we are used to now, so the aero position was perfect. You just had to get used to it.
After CERVEL, in 2003 I was again at a training camp in front of Hawaii in San Diego and I was thinking about what I could borrow for the race. They had a lot of laps in the shop and one I tried was LOTUS, which was set by Chris Boardman on the watch.
I rode my bike several times, but I wasn't completely excited about it. The bike was stiff and aero, but when I put a drink bottle behind the saddle and then rode my bike from the saddle, the whole bike started to twist and the rear brake cut on the bike, which was not desirable for the race. So even though I was looking forward to it being a great bike for the race, I didn't take it. (Standa Bartůšek, with whom I shared an apartment, was even looking forward to it, and when I arrived in Kona, he was the first to want to know if it was "THE BIKE")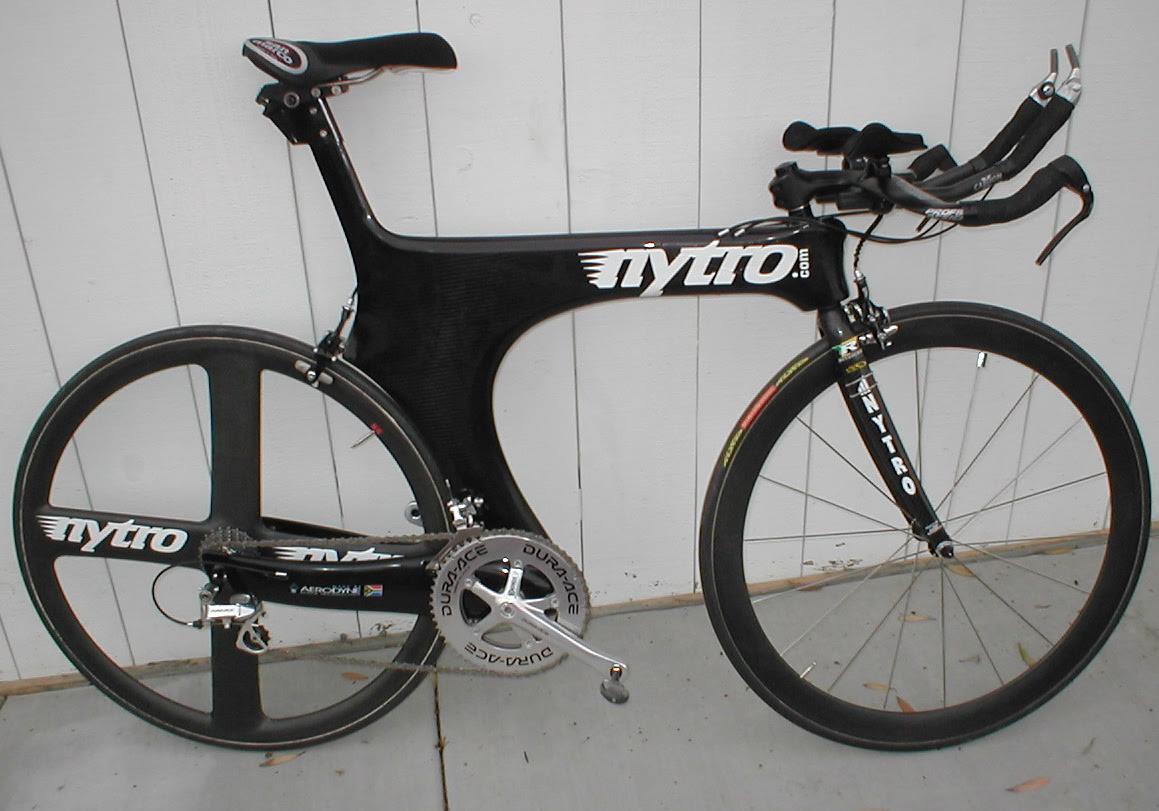 In the end, however, we agreed that I would ride a FELT bike. I remember one day my owner, Jim Felt, called me and wanted to know how big I was and how big a frame I would need.
In the Nytro store, I put the bike on and I also decided how big a converter to take. I wanted 54 teeth, but Chris McCormack took the last one in advance, so I had to take a bigger, 55 teeth. (probably didn't have strength :-))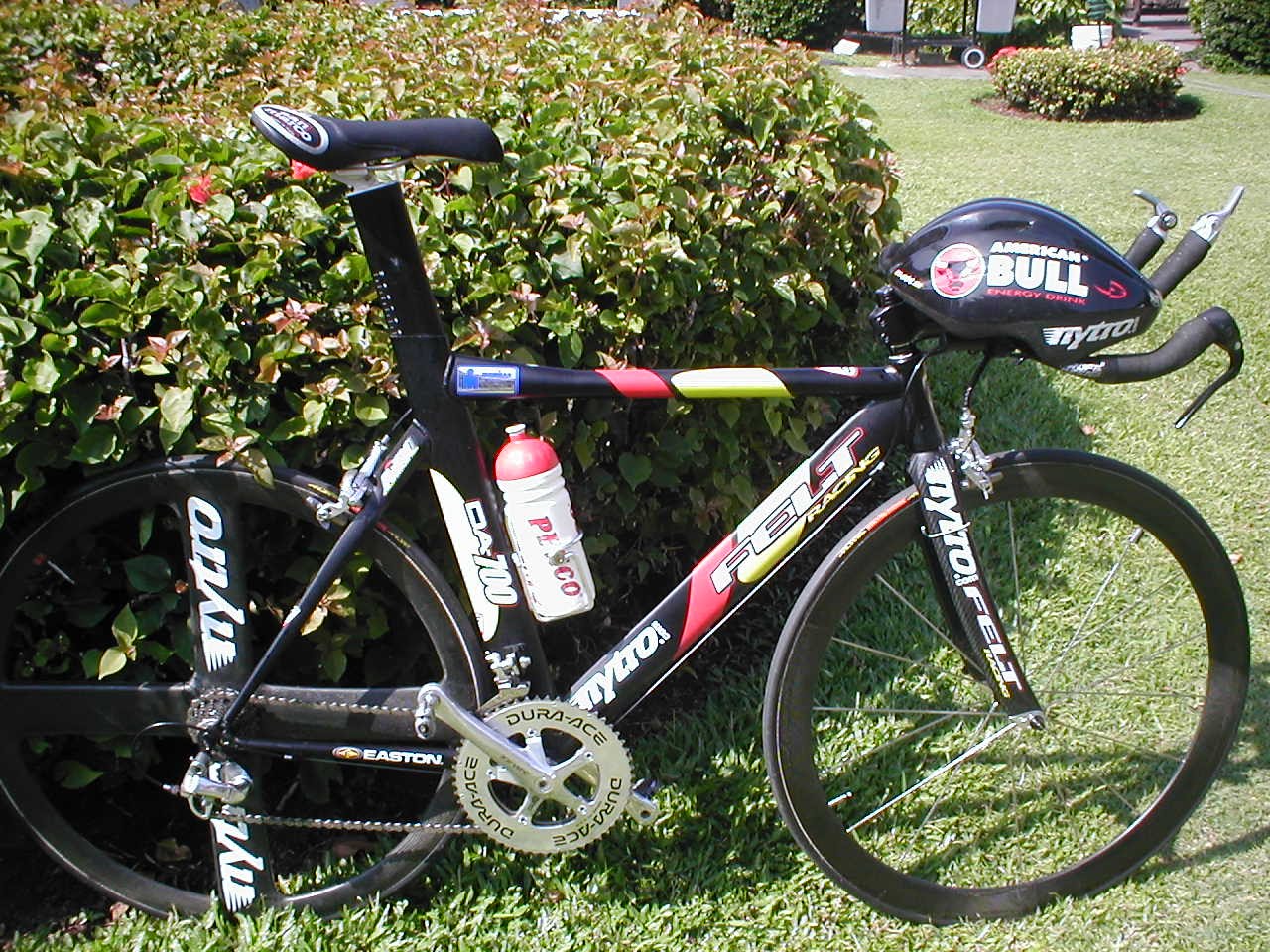 I had this bike for several years and later turned it into an Author, but it was one of the first aero bikes on the market. I think Michalle Jones rode the same bike.
This is Felt in the "Author" edition :-) but on this round I won IRONMAN IN KOREA. The combination of the rear bow and the front aero wheel from CORIMA was optimal for most races.
Another sponsorship special I had from the USA was JAVELIN. It was an aluminum wheel, which was quite variable thanks to the capabilities of the seatpost. The cranks from the Rotor were interesting on this bike. I had them as sponsors at the time and they were not just converters as we know and use them today, but they were whole handles that rotated elliptically. This photo is from Ironman JAPAN, where I guess I was in 8th place.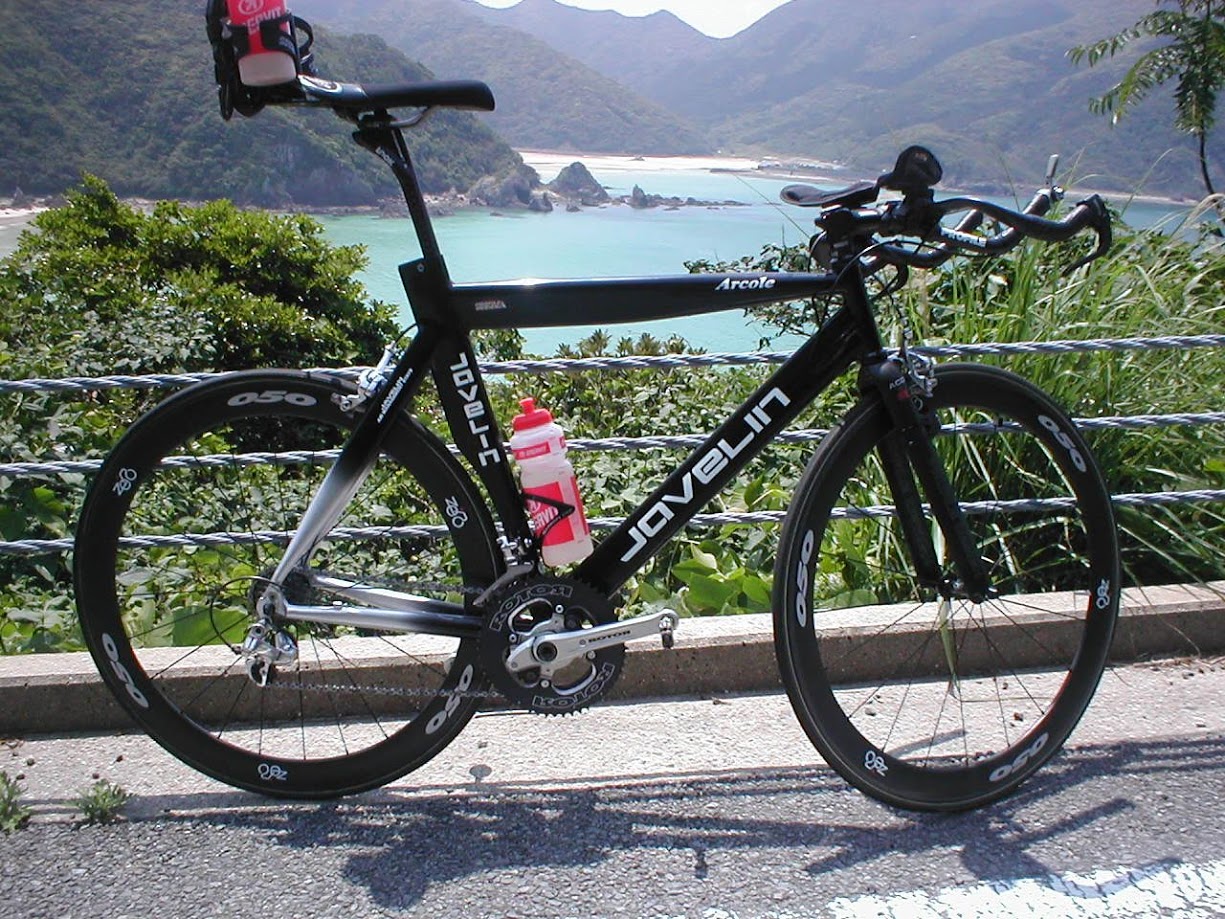 Bike setup in IRONMAN JAPAN 8. th place
BIKE SETUP IN IRONMAN MALAYSIA 3. rd place
After a few years, when I didn't race much, I built a new bike - Ridley Dean. It was aerodynamic and beautiful, unfortunately I did not enjoy it for a long time. After about 2 weeks, they robbed my garage and stole all my bikes, so I just ran for a while :-)
The next bike I had was STRANG. I had a couple of frames spray-painted in a Chinese factory, which were decent and didn't cost much, and I rode my bike for about 2 years.
Stevens also started selling this frame next season under its brand ...
In retrospect, I have to admit that the frame was good. There was just a problem with adjusting and refilling the handlebar pads, because when using more sockets to the frame there were no screws and had to improvise ...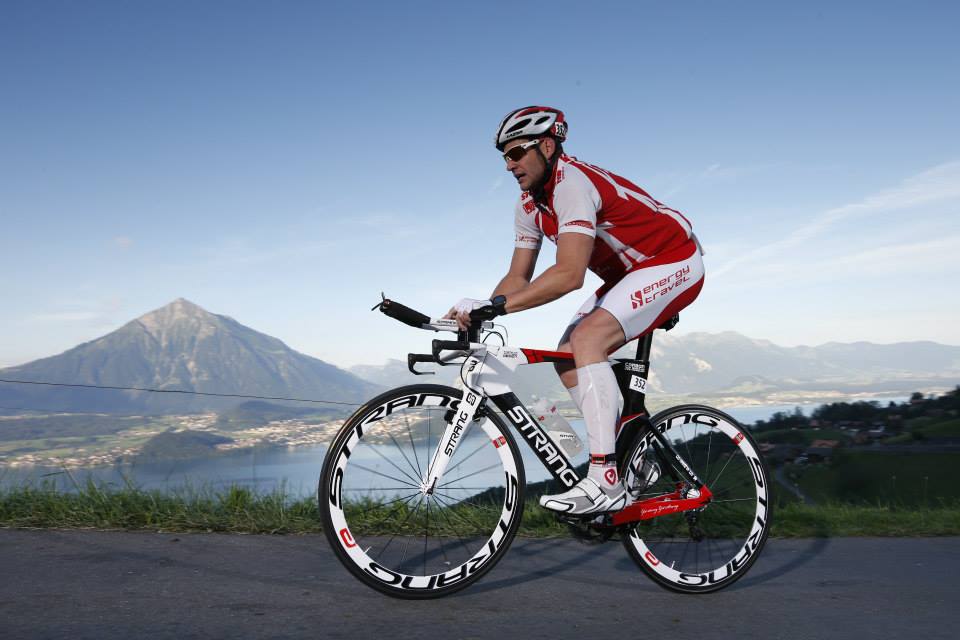 So far, the latest addition to the family of racing bikes is the TREK SPEED CONCEPT, which I bought before my last participation in Hawaii in 2017.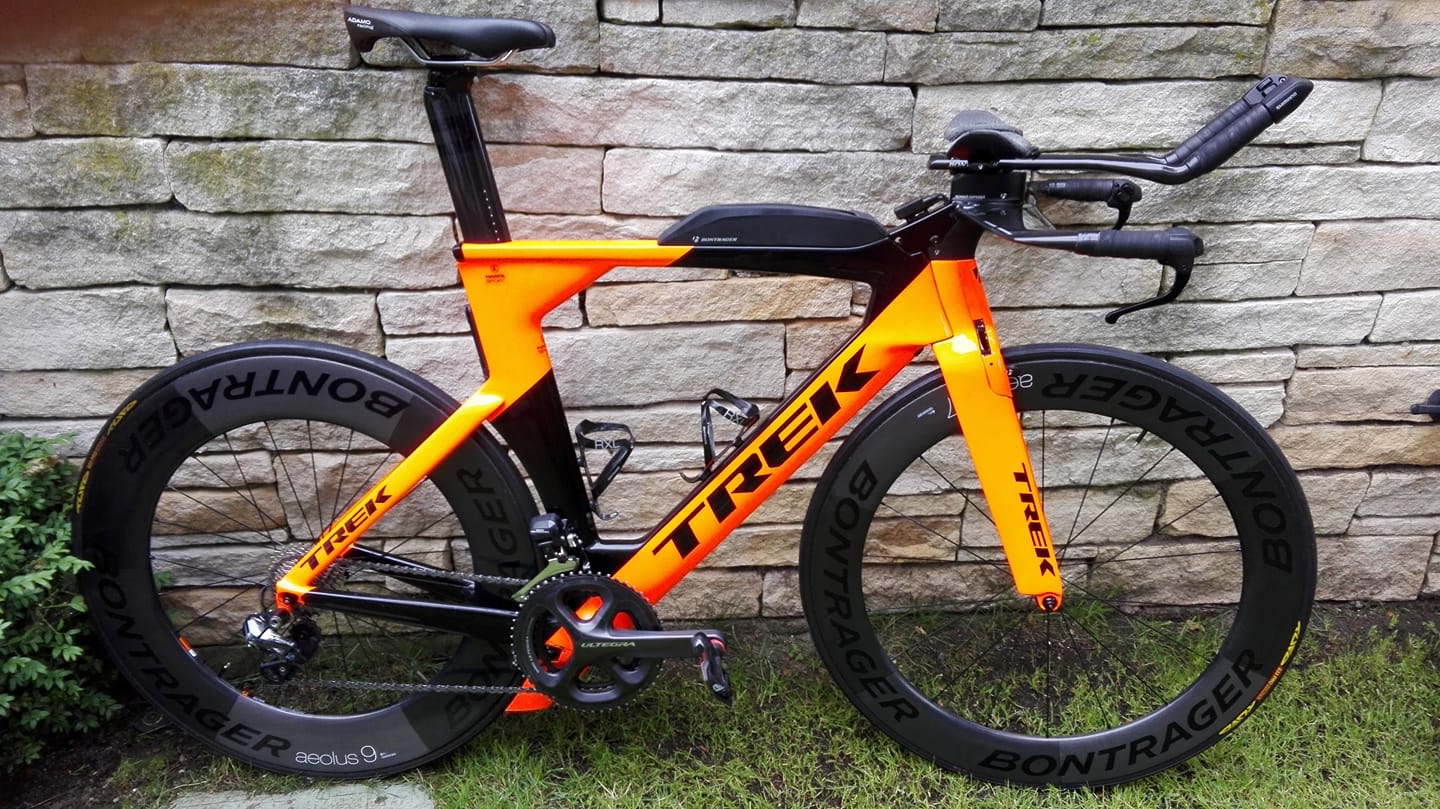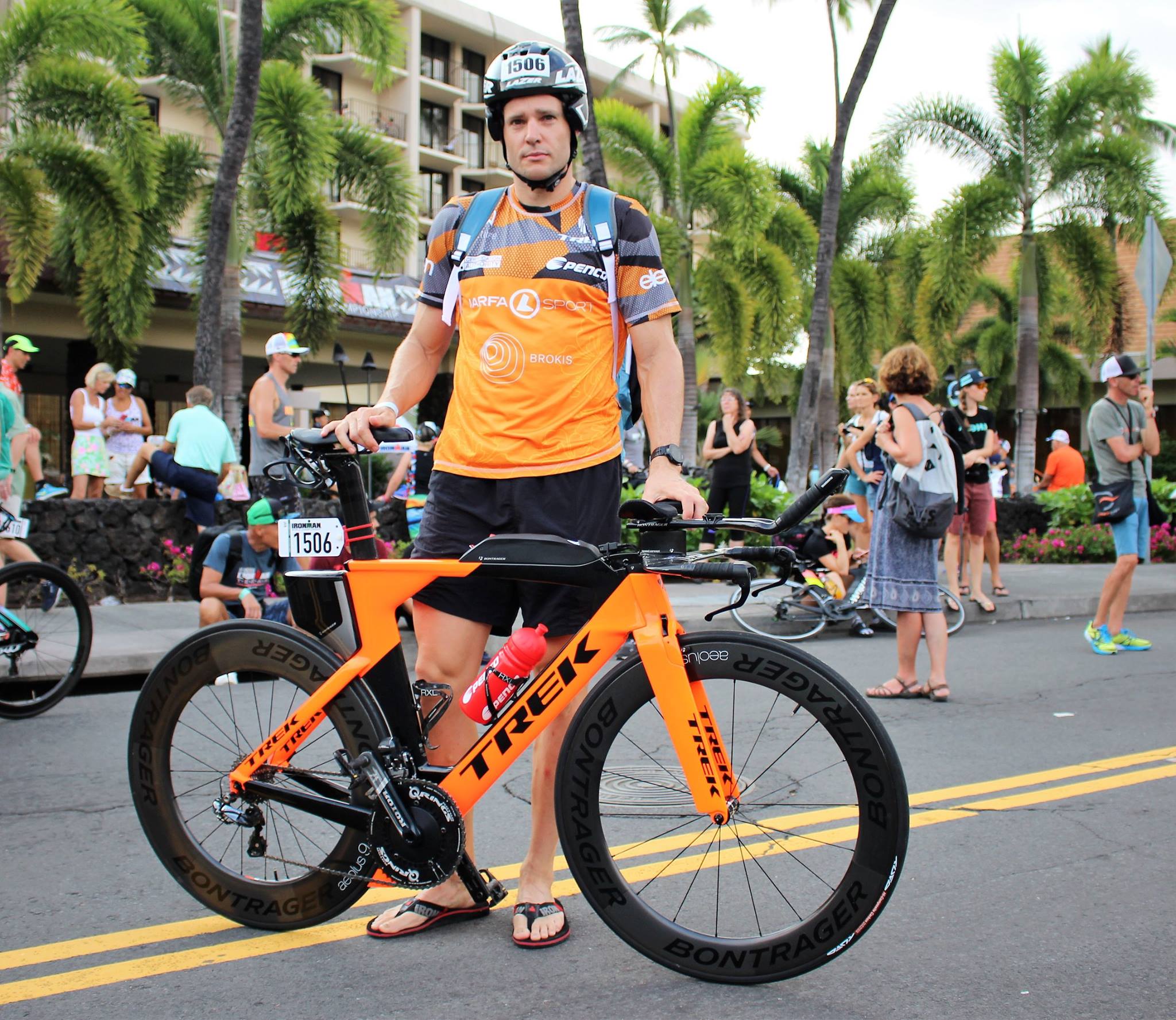 The bike is of course top, but it can be seen that since 2017 Trek has not done any bike updates or come up with any news, unlike competing brands.
The only thing that would probably be appropriate to change now is the use of disc brakes, but on the other hand Speed ​​Concept is a wheel for time trials and in Hawaii disc brakes are really not needed :-)
What I evaluate very positively is the possibility to buy different sizes of stems and bar shapes, so even in the event of a change in the owner of the bike, or a fundamental change in the setup, the bike can be set as needed.
Otherwise it's not about the bike, but only about training :-)
And I must not forget the fastest bike (but only on the plain and down the hills :-))
When I was to test the tandem for the first time with Mark Moflár, I had a little respect for it. I never rode on it, I had the plaster removed for about a week after the heel surgery and I cut off my heel on the third to fit into it and the bloated guy behind me, who doesn't know much :-) But it turned out well.
The bike rides really nicely (especially when driving a heavy gear) and you keep the speed above 40 km / h. Even in downhill runs, it is great thanks to the weight of the riders .. Well, it brakes a little worse with that ... it would like disc brakes ....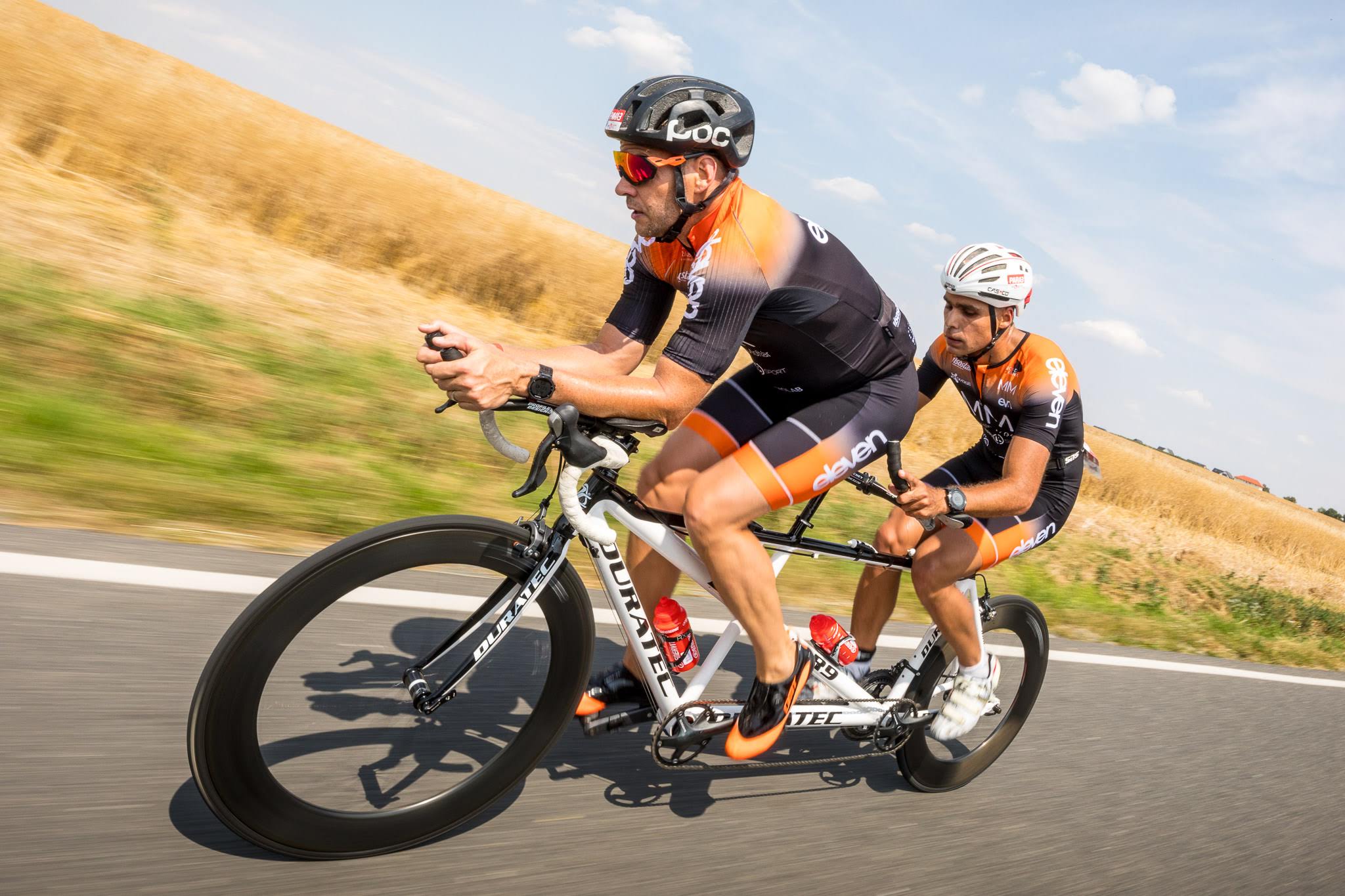 The development of bikes is constantly advancing and it is beautiful to see new and new bikes that are faster, more aero and the dealers will calculate exactly how many minutes you will save with a new bike.
As I say, the difference between a road bike and a triathlon bike is about 3 km / h higher in diameter ... So the triathlon bike on most tracks is clearly faster.
But the difference between triathlon bikes such as my Trek Speed ​​concept and the new Canyon is no longer significant. It can save you about 5-10 minutes (under ideal conditions) on Ironman, but it will cost you over 300,000.
The bikes are beautiful, but if you don't have an unlimited budget, they will rather buy a quality SMART trainer (1000-2000€) and then pay for a coach (approx. 2000€ / season) and I can guarantee you that your acceleration will not be only 5 -10 minutes, but in my experience 30-60 minutes.