Thanks to the Covid pandemic, we experienced something we were not used to last year. We couldn't travel and do things that came to mind by then. All our events were focused on staying at home, and those who play sports regularly were looking for ways to play sports at home and stay at least a little fit. Thanks to this, many people began to use large indoor training on exercise machines, joggers, or practice online yoga or strength training classes.
This was a huge impetus for the development and improvement of new cycling application technologies, thanks to which we were able to ride online and thanks to which quarantine was better managed.
The history of indoor cycling training is very long, but it has always been a classic war, which used to be home-made and were not hampered by anything. Riding them required a little practice and not everyone stayed on them in the beginning. Fortunately, the falls were not very painful, because the wheel had no inertia and the wheel stopped almost immediately when it came off the cylinders. My first attempts at driving took place in such a way that I had rollers next to the seat and I fell on it when I fell down, so it didn't even hurt. Over time, I learned to ride the rollers standing and without holding. The only thing that bothered me was the absence of any brakes that would make cycling difficult, because I always rode on the heaviest gear and I needed to warm up more. I solved it by putting a rubber band on the brake, which actually still braked, and thus increased the resistance of the wheel.
After the wars, I upgraded to a simulator with a braked rear wheel. It was Cyclops Fluid back then.
This trainer was braked with oil fluid, and the faster I rode, the more resistance the trainer made. Of course, this load could not be regulated in any way, but until this liquid spilled on my carpet, it was nice.
Another trainer that I used was already a sponsor Computrainer. For a long time, this trainer was one of the best trainers in the world and all triathlon stars trained on it. It was possible to regulate the load in watts with an electromagnetic brake and also offered the possibility to connect the simulator to a PC and ride "virtual reality". It was something that no one else offered at the time.
From today's point of view, it's funny, but the fact that the year 2000 was written was just amazing.
Unfortunately, the company Race Mate, which produced Computrainer today, has incomprehensibly disappeared for me (even no one bought it under their wings), which I think is a great pity, because today they could be a few steps ahead of other competitors in this segment.
There are currently several very interesting cycling applications on the market, which I am currently testing and I will prepare to compare in the next article. From this comparison I also make short video reviews, which are on Youtube https://www.youtube.com/channel/UCGoFYjhhw40s1zI5WmyXbFQ
So far, I'm learning more, so focus on the content rather than the quality of processing :-)
But what is important for you to be able to start riding the trainer?
Let's see what "hardware" you need:
Trainer
However, in addition to the rollers described in the article above, it will be more practical to choose a trainer. I will try to describe the basic models. Unfortunately, due to the situation, there are not many of them available and the SMART ones are sold out and new ones will arrive sometimes in 2-3 months.
Classic braked trainer - the most available variant for indoor training. The whole wheel is clamped to the simulator with a quick release and then a roller is pressed against the rear wheel, which brakes the wheel.
The trainer is most often braked magnetically or liquid. This simulator cannot be connected to applications such as Zwift, Rouvy as standard, because it does not communicate with the PC. The only solution is to buy a speed sensor, which is placed on the rear wheel hub and the one to pair ANT + or Bluetooth with applications. The cyclist will move, but the load will be the same (it will not be adjusted according to the track profile)
+ price (bazaars can be bought for a few thousand crowns)
+ weight (they are light and quite compact)
- The load in watts cannot be regulated
- It is not SMART and cannot be connected to cycling applications
- They are noisy due to the friction of the rear wheel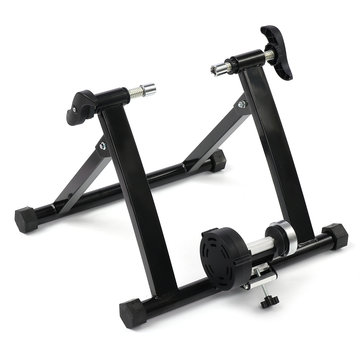 SMART electromagnetic trainer - a more expensive and slightly smarter variant of bicycle trainers. These SMART trainers already communicate with cycling applications and are braked by an electromagnetic brake, so the load in watts can be set on them.
+ still available price approx. CZK 7-10,000
+ possibility of connection with cycling applications
+ possibility to set the load in watts
-They are noisy due to the friction of the rear wheel
-Frequent calibration of the trainer required
-Maximum power of these trainers is 800w (6% hill)
Exercise bikes with rear wheel mounting - these exercise bikes are a bit more advanced than exercise bikes with a braked rear wheel. They are quiet and the load is much higher. Compared to a braked exercise machine, the ride is just beginning to resemble a real road ride.
+ possibility of higher load up to 1500w (10% hill)
+ quiet operation
+ connection with cycling applications
+ possibility to use software, structured trainings or online riding (according to the type of trainer)
- The load is high, but not yet sufficient (you go up a hill of 15% on a large scale, because the trainer cannot handle a larger load)
- Prices start at CZK 14,000 (but are usually only to order, because they are sold out)
Rear exercise bikes with more expensive trainers - these treadmills are probably the best you can have for training. They are the highest and most powerful models of trainers. It can simulate a load of even 2000W, which is really enough and 15% of the hill will be as heavy as in real life. In addition, some trainers (Tacx NEO) can twist and vibrate when riding on unevenness such as dice to make you feel like you're really on a peacock.
+ 2000w exercise machines
+ Simulation of driving on unevenness (Tacx NEO)
+ Some trainers do not need to be connected to the mains (Tacx NEO)
+ Training and riding is very realistic compared to riding outdoors
-Price 1000-1300 EURO
The TACX NEO 2 simulator is still available in the Harfasport store www.harfasport.cz
Bicycle bikes - trainers without the possibility of using your own bike. These trainers are structurally more stationary bikes as we know them from spinning, but they are equipped with top technologies and are adjustable in all directions. At the moment, I can think of only about two models that are worth mentioning.
Tacx Neo bike - the trainer uses Tacx NEO as a base (see above) and is built as a stationary bike. In addition, it is equipped with a tablet holder and fans that blow depending on your heart rate. The bike has its electric shift, so it's really very quiet.
+ very quiet operation
+ possibility to set position and sitting position for all types of characters
+ small fans included in the trainer
- Price approx. EUR 2500
Wahoo Kicker bike - this trainer can tilt compared to the Tacx Neo bike depending on the track profile. So when driving uphill, the trainer "rises to the back" and vice versa. The advantage of these trainers is, in addition to silence, also the possibility of setting a seat for more people (ideal as one bike in the family for a partner + children)
+ very quiet operation
+ possibility to set position and sitting position for all types of characters
+ possibility of tilting the simulator according to the track profile
- Price approx. EUR 4000
This trainer can be ordered in LBS Sport www.lbs-sport.cz from Martin Vítek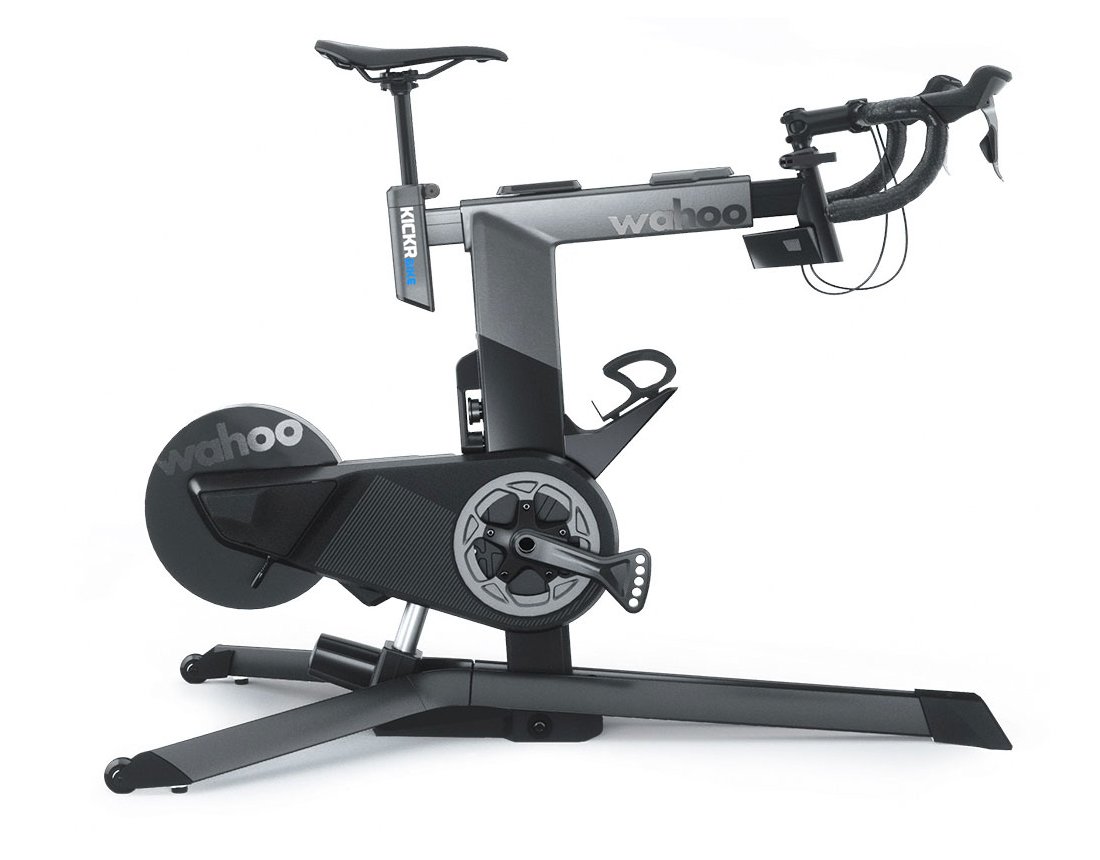 In the evolution of trainers, I came to the TACX NEO 2 through basic trainers and fluid trainers, so I can write my experience with individual types. I'm currently running NEO 2 and I have to say that I'm very happy that I decided to upgrade from Tacx Flux. The ride is quieter, the load corresponds to real riding outdoors and thanks to online applications on a bike I spend much more time than in the past.
But I can imagine that I will spend 80% of all training on the trainer in the summer and only a small part will ride outside. I don't think it's a problem to run the intensity on the simulator and I'll keep the long bikes outside on the weekend. This trend has been confirmed for several years by the best triathlon pros, where they complete all training on exercise machines and only race outside.
Training is more effective, safe on the simulator, and those who live in a world city do not have to deal with how to get somewhere on the outskirts of the city, where they can ride a bike….
In addition to the trainer, you will also need other gadgets so that you can enjoy the training and manage to sit on the bike for a longer time. Let's take a look at what is good for a treadmill to have:
Fan
Riding on a simulator is different from riding outside. When riding outdoors, the cyclist's body constantly cools the air and thanks to that it has no problem to cool down. Exceptions are only at really high temperatures, or when riding uphill in warm weather, when the cyclist moves only very slowly and the air does not cool him so much.
It is necessary to have a quality fan on the simulator and to ride ideally in a ventilated room. I myself have a classic fan of a larger size, which works well even on long rides.
However, it is possible to buy a special bicycle fan that blows depending on the rider's heart rate and is strong enough. Probably the best on the market today is the Wahoo Kicker wind.
Pad under the trainer
As I mentioned in the text, you will sweat during training. That is why you need to have a mat under the trainer, so that you can clean better after training. Here you can either use the original pads offered by cycling companies, or you can buy rubber pads, which are used, for example, to soundproof the washing machine in the bathroom. This will also reduce vibrations and your neighbors will prefer you a bit ????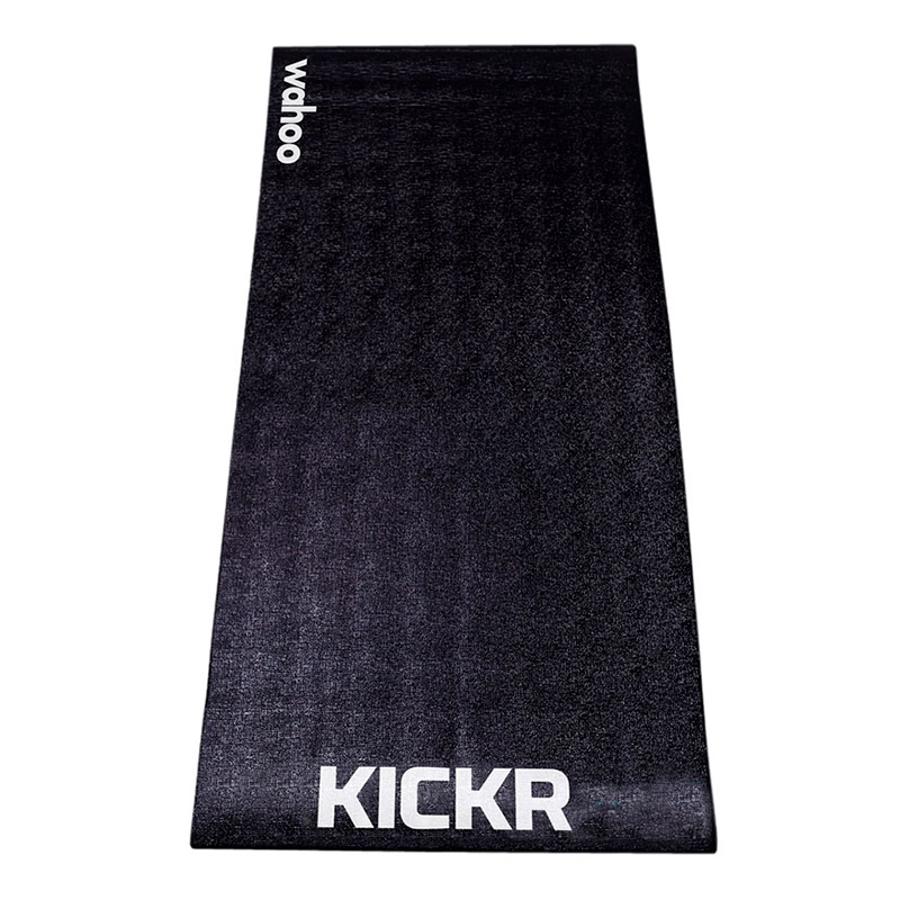 Riser under the front wheel
Most trainers come with a pad under the front wheel to compensate for the difference between the rear and front wheels. I often put the front wheel under even more to achieve permanent uphill rides. There are many such plastic blocks under the front wheel on the market, or if your budget is unlimited, you can reach under the front wheel lift pad offered by Wahoo. For about EURO 400 it can be yours.
PC / LAPTOP table
If you will be riding a smart trainer and you will have a connected PC / iPad to the TV, it is good to have a computer somewhere at hand, because sometimes it will be necessary to turn somewhere along the route (ZWIFT) or switch a different camera angle. So try to install everything as close as possible to the trainer so that you have everything at hand and do not have to get off the bike every time. Personally, I have a PC next to the bike, which is connected by an HDMI cable to the TV. But there are also special adjustable tables for indoor riding on which you can have lunch while working or work on a PC.
Music
Thanks to virtual applications, it is not so complicated and psychologically demanding to sit on the trainer for a long time, but it is still nice when you have music playing for training. I use a loudspeaker myself and when I do some races, I put music on my headphones, for more motivation.
Food Drink
It is good to prepare food and drink somewhere to the simulator depending on how long you plan to go. Thanks to the intensive driving, you will drink 1-2 bottles per hour, so it is good to think about it and prepare everything in advance. No one will be waiting for you during the virtual race. But some trainers know that when you go downhill, you don't have to pedal, so you have the option to bounce it off for a new drink or food. I did this just this weekend, when I drove to ROUVY 90 km IM NICE and I managed to change my drink at the downhill ???? It is also good not to underestimate the food. Although you drive at home, so in the case of a smoothie, you just move to the refrigerator, but it's still good for longer rides. In general, I try to eat something (banana, stick) during longer rides of 60 minutes.
Wheel / trainer maintenance
You will sweat a lot while riding and it is good to protect the bike from sweat as much as possible. Either you put a towel on the handlebars / crossbar to wipe it in, and it will also serve as a protection for the frame from sweat, or there are original wheel guards.
After training, it is sometimes a good time to wash and clean the bike, especially in the area of ​​the handlebars and crossbars. Otherwise, after more frequent use, it will not be possible to loosen the screws corroded by sweat.
While you choose the trainer, I am testing cycling applications for you and at the end of February a comparison will be prepared for you. You can find videos for individual applications here:
https://www.youtube.com/channel/UCGoFYjhhw40s1zI5WmyXbFQ