This year was also historically the first year, which took off after the agegroup categories. The organizers were forced to take very strong criticism from those who did not like drafting. It was not possible for racers who climb out of the water in 10 minutes and sit on the bike to ride cleanly and according to the rules. This was simply not technically possible.
I know from my own experience that much more is being drafted today than in the past. In 2001, I drove all round practically alone and only occasionally drove someone (I was not able to reach the front group at the beginning, although it was in sight) and now the group is practically from the beginning. (Of course the pros are watching, but in the age group the adherence to the drafting rule is not so strict anymore)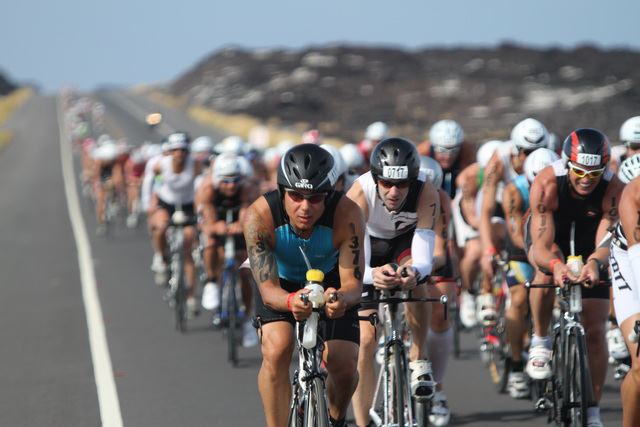 Therefore, the times that are being driven today cannot be compared to what was before. First, the technique has gone ahead and the difference between the trapeze and today's aero wheels is abysmal, and thanks to Ironman Mania many age-group racers have started training and have training conditions that are in most cases better than today's top professionals.
To the race itself:
Surprisingly, the defending champion Patrik Lange, who is coached by another Hawaiian winner Faris Al Sultan, was surprisingly in the lead group of 9 triathletes. There is usually nothing essential for swimming, but worse swimmers always try to minimize losses, so that the bike is in contact with the race as soon as possible. Swimming in Hawaii is not fast. First, it is 100 m longer than the other Ironmans, and swimming in the sea and waves is specific. The waves are not big, but they are so long and it is very easy to see how one moves forward and then the wave comes back to where it was just a while ago ...
Nevertheless, the first group climbed at 47:30, which is 1: 13 / 100m.
Cycling is sharp. It's no longer a bike to go somehow, watch each other and then decide to run. In the past, Tomas Hellriegel, Jurgen Zack, or Norminator Stalder were active on the bike. They tried to develop their lead on the bike as they were not the strongest runners. Except for Jurgen, who was the best 2, it went out and the Hawaiian Ironman won.
Today, however, runs all out from the beginning. Frodeno is said not to drive over 400 watts and it goes aerobically, but is able to drive over 300 watts for a long time. These are horrible numbers for most of us, but even these gods won't endure these watts, and the cycling ends somewhere on 280-290 watts.
Hawi was supposed to go, and everyone except Lange, who dropped out of the race and left the race, was in contact.
After the Hawi turn, it begins to sink and the wind is in the back of the racers, so the speed is 60-70 km / h. I remember my first participation in 1999 when I won an agegroup I had 52x12 transfers and I had nothing to throw in there. Others who had the gears slowly overtaken me and I could do nothing ... I felt the same as if you are cross-country skiing and someone has a better style and you just missed and you do nothing with it :-) (next year I had transfers 55x11 and it was much better)
Looking at the ride of the pros could not see how much blows. Only the comments of our boys showed that in spite of the very strong wind the best pros drove like crap.
Frodeno had his day. He put the wheel in 4:16 (42.16km / h) and the depot ran like a rope.
Frodeno was the first to run, followed shortly by Alistair Brownlee, who was most expected to run.
Although both Froden and Olympic are winners in a short triathlon, Frodeno has much more experience with age, and Hawaiian sucker Brownlee soon discovered that Hawaii was not a pink orchard, and from 5 km he began to lose to Froden and was gradually overtaken by other competitors.
In the end he finished 21st (like me in 2002 :-) and during 3:13 he proved that Hawaii is not giving up.
Frodeno rode a life race. After a traditionally strong swim, he dominated cycling at 4:16 and then deceived the rest of the opponents with a marathon at 2:42 and set a new track record of 7:51:13.
Tim O´Donnell (husband of Miranda Carfrrae) was behind him and another ex champion Sebastian Kienle took third place.
It was once again confirmed that Hawaii is a very difficult race and that today's equilibrium world leaders need to sacrifice maximum.
Vojta Kačena was sitting with professionals who were talking about diet. Most of these guys hold very strict Keto diets so that they are as light as possible and best prepared.
A great inspiration for them is mainly cyclists, who have a sophisticated system of these diets and in preparation for the Tour do their best to increase performance per kilo of weight.
Unfortunately, cyclists have completely different financial options and ensuring the season compared to triathletes. Just to give an idea of ​​the minimum salary in the PRO tour is 50.000 Euro / year.This will get newcomers who jump into the professional peloton. In addition, they have material, racing and training stays and camps from the team. Triathletes are total frogs in this. I think TOP 5-10 racers